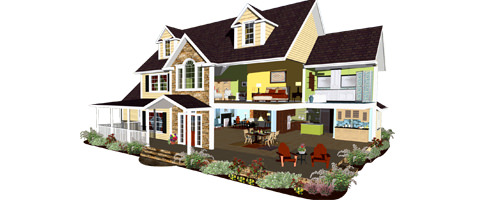 TECHFRAMES 3D Virtual Tour Interior walk through creates a winning situation for homeowners, designers, contractors, buyers or investors. Our interior design renderings bring your property to life. They are very artistic, realistic, affordable, and custom designed to your specifications.

3D virtual tour of your interiors designed at TECHFRAMES studio produce a lasting impression by helping you to visualize how each room in your apartment, home or office will look like in the concept stage itself before even a brick is laid. Knowing in advance how your living space, kitchen or dining room will look enables you to make the necessary changes to turn your beautiful dreams into reality. You get the flexibility to assess how each furniture, fabric or lighting looks and change them to suit your tastes

3D furnished interior design walkthroughs perform as effective and compelling sales tools by helping buyers appreciate the possible future layout of space they intend to purchase, be it for office, restaurant, apartments, homes, church, shops or commercial buildings. 3D walkthrough virtual tour designed by our creative TECHFRAMES team provides a total visual experience to see the layout, fixtures, furniture options and colour and texture coordinates. Photo-realistic renderings of furnished interiors give you a competitive edge to hard sell your project or win construction contracts

At TECHFRAMES, our dedicated team of designers initially complete for you, the 3D virtual model true to your internal specifications. Later with your consensus we decide on the camera path to best present your walkthroughs and also provide static renderings based on the approved virtual model. We can also make the renderings attractive by adding scenic views beyond the windows to breathe life into the interiors by incorporating photographs of outside scenes.

3D presentations created by TECHFRAMES talented artists can go beyond the ordinary and provide you with additional service of animating your furnished interior renderings in real time. This enables you to view your designs from various angles by rotating the 3D visuals with a click of your mouse.

Furnishing and decorating have become very easy and affordable with visual 3D renderings of furnished interior designs. More and more people are opting for interior renderings as they feel the need to visualize in understanding and deciding on their choice before committing to final plans.

We offer a variety of architectural 3D services including