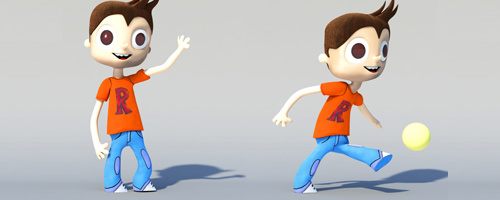 We create 3D Character Animation or 3D Cartoon animation television series, movies and Internet. Our talented team of animators at TECHFRAMES has expertise in all fields of animation process and can see the entire project from script to screen produced to perfection.

Our creative team at TECHFRAMES successfully undertakes to write, design and produce cartoon projects of varying time limits. We provide solutions of unparalleled quality at cost-effective rates.

Visualization and pre-visualization methods of 3D character design and animation services offered by TECHFRAMES can be used in various applications such as broadcasting, advertising, television, videos, cartoons, websites, company presentations, marketing strategies and motion pictures.

A custom character, logo or mascot is a powerful attention-grabbing weapon to effectively convey your message and engage your audience and customers. TECHFRAMES team of highly skilled animators, illustrators and programmers create 3D character animation, and narrative structures for interactive, feature, print, and online flash applications.

Technical and design resources at TECHFRAMES produce animated design concepts specific to 3D character and environment design for animation. 3D character design and animation work at TECHFRAMES incorporates all aspects of development including conceptual improvement, modeling, rigging, narrative structure, storyboard, cinematography, and art direction. It also features all facets of film making such as light and camera settings, backgrounds, and elements like fire, water, fog or clouds for linear and interactive presentation with sound and voice application if necessary.

TECHFRAMES animation studio projects your message through compelling character animation developed with the use of high end technology and artistic skills that transform your ideas into reality.