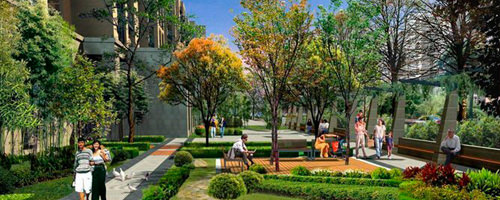 Modern landscape designers rely more and more on newer technologies to explore ideas and communicate with clients effectively. Like professional architects they need fast and easy 3D landscape designs to maximize communication through visually appealing presentations.

TECHFRAMES provides 3D landscape design images that let you flyby, walk-through, cycle or drive-through in fascinating 3D imaginary world created. We create fast and stunning 3D designs from initial design data, sketches, plans, sections, or elevations provided. We can convert your existing 2D designs into attractive 3D images.

3D floor plans enable true spatial representation in all its dimensions and display clearly the space and placements of doors, windows, height of the rooms and other architectural details. It helps designers and architects make better use of space. 3D plans help you decide on the final floor plan.

3D landscape models allows designers and their clients to see spaces for better utilization even before the actual work, planting or construction starts. 3D landscape designs transform abstract ideas, drawings or blueprints into colorful, photorealistic images with depth.

TECHFRAMES help you to effectively create perfect outdoor environment views of your dream plans directly and economically with striking realism you desire. You can custom create any tree or shrub with the right foliage density, color, dimensions and style. A selection of textures for landscape including pavement materials, water bodies and ground covers with apt natural lighting can add stunning visual impact to your design presentation.

TECHFRAMES cornerstone of success is our outstanding client services. Our constant efforts to perform efficiently but with maximum creative control offer optimum value towards client satisfaction.

Factors of landscape designs include tree and terrain modeling. It incorporates many elements and context including plantings (trees, foliage, canopy, vegetation clumps) and different terrain and ground cover.

Call us or email us with details to discuss your project.

We offer a variety of architectural 3D services including